Dragon Age 2′s second item pack released
on
August 23, 2011
at
12:21 pm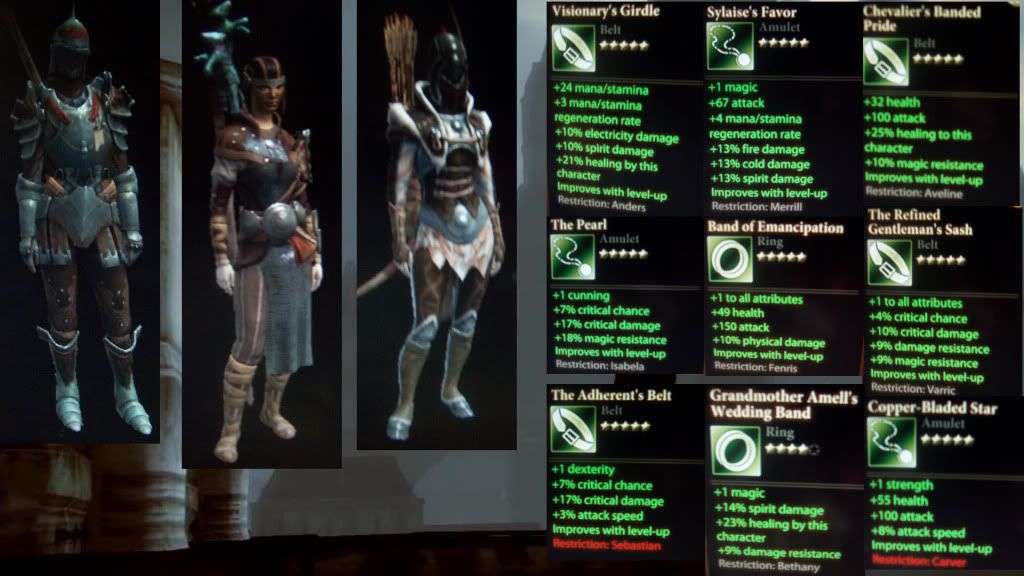 Hawke and friends can enjoy even more armor, weapons, and accessories in the second item pack for Dragon Age 2.  The item pack released today with a number of items for all classes if gamers purchase the bundle for 400 Microsoft Points on Xbox Live, $5.00 on the Playstation Network, or 500 BioWare points on PC/MAC.  Individual packs can be purchased for $3.00 each.
This writer plays on Xbox but wanted to bring you a few screenshots of the items included.  This is not a comprehensive list.  All armor in the new item pack does not scale with level.  Two sets are available for each class, but they are identical to each other.  For example, there are two rogue armor sets but they look the same.  These two armor sets do differ from the mage and warrior armor, though.  That's why there are only three sets of armor shown.  The stats of each armor piece aren't listed, but please note that the higher level chest piece in each is actually not bad.  As for the new weapons, they do scale with level and often do more damage to humans as noted in the screenshots.
Above we have the warrior, mage, and rogue armors presented in the second item pack.  The stat sheets are for the accessories found in the pack.  Below we have the weapons included in the pack minus the bow.  It's coming soon, I just forgot to capture it.
Please remember that these are off-screen images.
UPDATE: The characters these were tested on were at least 20+.  The bow was equipped on a 26 while the rest were on characters ranging from 22-24.